Benefits of Renting a Bounce House Watertown Instead of Other Entertainment Sources
Bounce House Watertown, NY; Planning a party for your kid(s) this holiday? Whether it's a birthday, graduation, church party or any other party that will involve kids' entertainment; an inflatable bounce house rental can be all you will really need to have an awesome party. Generally speaking, the majority of kids love bounce houses and renting one for any kind of party will definitely be the highlight of that party. Below are some of the benefits of renting a bounce house in Watertown instead of other common entertainment options.
More Exercise
All the kids i know apparently seem to exude never-ending energy levels. Unfortunately, kids nowadays don't usually get enough playtime even during recess to expend this energy. Unlike other entertainment sources, renting a bounce house for them during a party or on a sunny weekend will definitely get them to have fun, exercise and engage in the much needed physical activities, and simply enjoy being kids.
Hassle-free Entertainment
Renting a bounce house is also one of the best ways to ensure that your kid's party rocks and that you get to have fun as well. When you rent a bounce house, usually, the rental company will be responsible for delivery, set-up, and collection. You can also choose to rent other party rentals including catering services and concessions from the bounce house rental company so that you can get to sit down, socialize with the other adults present and enjoy the party without having to stress about anything at all.
Why spend hours cleaning your house after a party when you can rent our inflatable bounce houses and other party rentals at affordable costs and opt for an outdoor event?
Get Your Kids to Socialize
A bounce house can get even the shyest kids to open and socialize and make friends with other kids. Unlike other entertainment options where kids must be forced into polite interactions and awkward conversations, the fun-filled environment in a bounce house allows kids to enjoy themselves and have fun around other kids without feeling shy. In fact, all they will be thinking about will be how much fun they are having. At the end of the day, even shy kids can get to make new friends in a relaxed social setting.
Get the Kids Out of the House
Most kids nowadays spend all their time watching movies, television and playing electronic games. This is very unhealthy for kids seeing as they have so much energy to spend. Naturally, with this excessive pent up energy, kids can get overly cranky, aggressive, or pouty when they get cooped up indoors all day.
Instead of holding indoor parties or other indoor entertainment options during a sunny day, a bounce house can be the perfect solution to get your kids out of the house to play instead of just staying cooped up in the house playing (sometimes aggressive) video games or watching television all day long.
With all the jumping, flipping and bouncing that's bound to be happening inside the bounce house, you will be able to get them to spend the excess energy. You may even begin to notice a positive attitude change in your kids.
Are you looking a quality and affordable bounce house rental in Watertown?
Located in St. Lawrence County, New York, Seaway Valley Jumpers inflatable party rental Service provides affordable top quality bounce houses and other inflatable rentals to customers in Watertown, St. Lawrence County and all the surrounding communities. We also offer concessions and other party rentals at affordable costs.
How to Make a Reservation
Simply check the available inflatables and party rentals, enter the date and time of your event and all the items available will be displayed on the page. If you see what you like, simply add it to your cart to make a reservation. We guarantee that we will deliver a house of fun and games to make your event one amazing party
Have Any Questions?
If you are interested in a Bounce House Watertown, have any questions at all or simply need more clarifications, call us today at 315-528-9318 and we will be very happy to answer any questions you might have and hopefully be of service to you.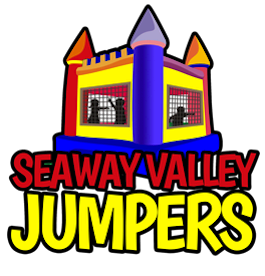 © 2016 Seaway Valley Jumpers, LLC. All rights reserved. Ogdensburg, New York 13669 (315) 528-9318