Bounce House Rentals Watertown
Are you looking for Bounce House Rentals Watertown, New York? Welcome to Seaway Valley Jumpers.

Located in St. Lawrence County, we offer quality and affordable inflatables including bounce houses and water slides as well as all other party rentals to families, schools, organizations and all our customers in Watertown, New York and all the surrounding communities.
So Why Choose Us?
If you are asking yourself this question, we hope the following reasons will adequately answer your questions, tell you more about our rental service and how we operate.
We are licensed and Fully-insured
This goes without saying; we are a licensed and fully insured inflatable bounce house and party rental service operating legally and practicing all the safety standards required in the inflatable rental service industry. When you rent from us, you can be sure that you are dealing with an insured company and qualified and experienced professionals.
Quality, Safety and Hygiene
If you are looking for a rental service that will always provide clean, high quality inflatables and other party rentals, we are that rental service. We care about all our customers and that is why we can guarantee that all the units we rent out at Seaway Valley Jumpers are heavy commercial-grade inflatables designed with the safety of users in mind.
In addition to this, we also ensure that our units are always cleaned before and after each rental. This is why when you rent any unit from us, you can be sure that they are clean and sanitized such that no germs, dirt, or debris can be passed on from previous renters
Free Delivery, Set-up, Take-down, and Collection
When you rent any rental unit from Seaway Valley Jumpers, we always take care of delivery, set-up/assembly, and collection. Your only work will be to enjoy the event. We always clean and sanitize our bounce houses and any other inflatables on site and ensure that they are in good condition and ready for use. We will also be responsible for taking down the bounce houses after your event.
Variety
At Seaway Valley Jumpers, we have a large inventory size to accommodate the needs of all our customers. All our inflatables come in different themes, shapes, sizes, and prices. We can safely say that with our inventory, there is actually something for everyone. No matter what bounce house you choose however, you can always be sure that your kids and their friend will have a fun-packed party.
In addition to this, we also offer other party rentals including stylish tents, tables and chairs as well as concessions at affordable costs. Why go anywhere else when you can access everything you need for an amazing party on one roof and at affordable costs?
Excellent Customer Service
Our rental business is built on customer satisfaction. All our employees are well trained and experienced in what they do so when you rent from us, you will be assured of dealing with competent professionals at all times. We take customer satisfaction very seriously. Be ready to meet people who actually care about ensuring that your party goes without a hitch. Our staff will often go above and beyond to exceed customers' expectations.
We know that the only way to keep a customer coming back is by providing them with quality products, services, and exceeding their satisfaction. We hope to develop long-term relationships with you so that you can keep coming back to us and hopefully even refer our business to your families, friends, and colleagues.
Are you looking for a quality and affordable bounce house rental in Watertown? If you are interested in renting a bounce house or any other party rental from us, simply reserve it.
How to Make a Reservation
To check the available inflatables and party rentals, enter the date and time of your event and all the items available will be displayed on the page. If you see what you like, simply add it to your cart to make a reservation. We guarantee that we will deliver a house of fun and games to make your event one amazing party.

Why rent a bounce house in Watertown, NY? Heres some benefits as to why we think Watertown is the perfect place for an Inflatable Rental.

If you have any questions at all or simply need more clarifications, please give us a call at 315-528-9318 and we will be very happy to answer any questions you might have and hopefully be of service to you.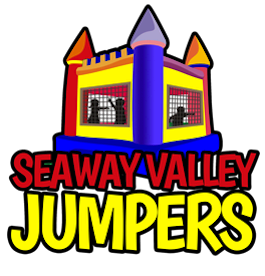 © 2016 Seaway Valley Jumpers, LLC. All rights reserved. Ogdensburg, New York 13669 (315) 528-9318